Shared Printing with INTELLIscribe
INTELLIscribe® transforms the user's print environment into a print distribution center. INTELLIscribe shared printing gives network administrators flexible device management policies to use at will.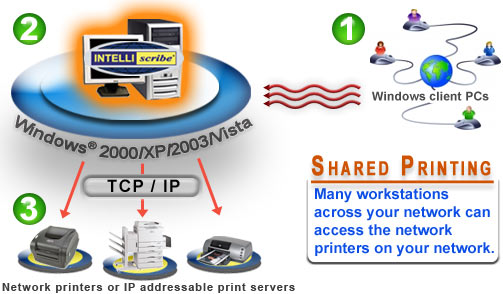 INTELLIscribe Solves Common Problems with Shared Printing
The Printer is not working
If your printer is not working, send existing jobs to another printer rather than just losing the print job.
Where's my Print Job?
If you commonly ask "Where is my print job?" the Windows® print client will not be able to answer you, but INTELLIscribe CAN!
Jobs are not lost
Status of job(s) is available
Status of printer(s) is available
Fix printer problem and reprint the job immediately without opening the application
Sent Print Job to Wrong Printer
In your current printing environment when print jobs are sent to the wrong printer by mistake you have to manually shut down the printer to stop the job and then reopen the application and print to another printer.
With INTELLIscribe you can instantly stop the print job when the wrong printer is selected and seamlessly reassign the job to another printer.
Elevate Your Printing Environment
INTELLIscribe's shared printing enhances job management including easy reprint. This combination merges Windows network printing with TCP/IP printing thereby elevating the entire print environment.
A user no longer needs to be logged in to accept print requests.
Licensed to allow INTELLIscribe to accept jobs from the Windows print manager when the printer is shared.
Instead of being able to print to just your local printers, INTELLIscribe gives you the power to print to shared printers within Windows