RPM Windows Print Server

RPM Remote Print Manager® is the only complete print server solution designed expressly for Windows® platforms. RPM Remote Print Server (LPD print server) allows users to customise and control processing of print jobs received over a TCP/IP network from host systems including mainframes, AS/400s, UNIX and Linux, and other Windows systems.
How RPM Works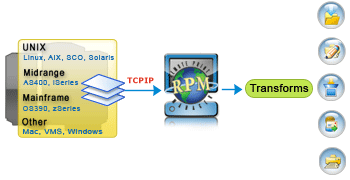 RPM receives print jobs from any host system, sent via the LPR/LPD or Telnet printing protocols. Using Telnet, RPM can receive jobs from JetDirect spoolers.
RPM processes the print data according to options configured in the queue. These options identify how the print data is converted, modified, formatted, or named. Print data can also be unchanged, making RPM a central pass-through for print jobs.
RPM passes the print job to the Windows Print Manager or saves the file to disk.


RPM's Print Management Queues
RPM incorporates printing queues for various printing needs. Each queue has characteristics which you can set in the Edit Queues dialog. For instance, two queues might use the same Windows printer, but each queue might use different fonts, or one might use portrait and the other landscape. Print queue management is key to getting the greatest value from RPM. Please read more about RPM's printing queues.
RPM's Unmatched Features
The following features set RPM apart from the competition. Learn more about RPM's Technical Features
| | |
| --- | --- |
| Easy to Configure | Easy configuration for fitting text output to any size paper. Support all fonts the printer can use. A variety of host data formats enable end-users to print without host system modifications. |
| Host print file to PDF | RPM will take host system print files (spool files) and convert them into PDF. From there you can archive, email, or print the document. |
| Email Print Files | Whether you have converted the print files to PDF or not, RPM allows you to email the print file to one or multiple addresses. |
| Feature-packed Print Queues | Unlimited print queue definitions accommodate routine and special printing needs. Customise data before printing. Transmit raw or pre-formatted files to any Windows printer. |
| Code Pages | Users can easily select appropriate code page to use when printing. RPM can use any code page currently installed on the PC. |
| Auto Queue Creation | Automatically create a print queue when a job is received, reducing network administration time by eliminating the need to search for misnamed queues. |
| Logging | Extensive logging in RPM provides each message in an easy to read format. Each log message shows a unique RPM event number, the time, the source of the message, the application that generated the message, and the message text. RPM can be configured to log only a minimal amount of messages or high detail messages. |
| Translation and Conversion | Easily translate and convert text from different formats. Translate EBCDIC data, ASA carriage control codes, or convert SCS to ASCII for all queue types. In text mode, SCS formatting is preserved, including font changes and character positioning. |
| Hide RPM | The system administrator can completely hide RPM from the user minimising user interaction and errors. The administrator can easily unhide RPM to do any configuration or maintenance as needed. |
| Filename Handling | When saving files to disk, RPM includes duplicate filename handling, filenames using job data such as date and time, user, job title, etc., plus options identified by key third-party integrators. |
| Multiple-Byte Character Sets | Provides Multiple-Byte Character Sets (MBSC) for use in international languages such as Japanese, Korean, and Chinese |
| Named Queues | RPM follows the established UNIX model of using named queues to represent distinct processing requirements. Each queue you created in RPM is fully configurable, and independent from every other queue. This means that a queue specifies actual processing, as well as the name of a printer or port. |
RPM Feature Highlights
The following table presents some of RPM's most important features. Learn more about RPM's Technical Features
Text Printing
One of RPM's major strengths is its ability to adapt text to the Windows fonts and printers.
RPM allows selection of any Windows printer

RPM stores the printer setup for that printer, including standard features such as landscape vs. portrait, and printer-specific features included by the manufacturer

RPM allows the selection and use of any font supported by the printer
RPM also supports overstrike and bold and italics effects with selected font

Page Processing

RPM can scale the font to fit desired number of lines per page and/or line width
RPM supports "pr" style printing with page headers
Override the starting and ending page on any print job
For non-text printing, RPM allows definition of a page delimiter string

User Controls

Start and stop processing for any queue, or individually by job
Let RPM run "hands-off" or control the process as much as required
Control the starting and ending page printed for a job
RPM shows you the status for each queue and job, and printer status from last print request

Non-text Printing Options

Pass the data directly to a Windows printer, including networked printers
Invoke a program, passing the data file as an argument
Pass a handle to a COM object (note: this is the most efficient method possible)
Write the file to disk, giving control over the location and name

Protocols Supported

RPM supports the LPD protocol as documented in RFC 1179, and the stream or reverse telnet protocol as is widely practiced. Our LPD support is second to none in the industry, providing a high level of confidence. If your business system supports LPD, then RPM supports you.

Named Queues

Unlike typical PC based print servers or hardware print devices, RPM provides flexibility by allowing the creation of unlimited named queues, and with each queue associate any combination of processing type and related options.

Multiple Print Requests

RPM supports multiple print requests in a single connection; this is not allowed by the standard but is practiced in certain free UNIX systems.

UNIX "filter" Support

RPM provides the user more control and options for naming files and handling illegal filename characters. Filter processing is now scheduled more efficiently for greater throughput. This will also assist with printing AS400 spool files.

RPM Supports Number of Copies

The LPD standard does not include a provision for printing copies, but popular print clients use several non-standard means for this request. RPM supports most if not all, including AIX and Linux/UNIX printing.

Zero Byte Files

RPM is one of the few commercial LPD servers on any platform which accepts zero length data files. RPM interprets this to mean that the length is unknown or unspecified, and accepts bytes until the connection is closed. RPM Elite or Select can be configured to close the connection after a specified amount of time.
Please feel free to download the fully functional Demo of RPM and see for yourself if RPM offers you a solution for your printing needs. You can test it out for yourself before you buy.
RPM Beta 5.0