RPM's Network (TCP/IP) Windows Print Queues

RPM Print Queues have been why many IT managers have switched to RPM for their network and TCPIP printing solution. RPM offers many transforms and actions once RPM receives the print file from the host system (iSeries, zSeries, UNIX, Windows, or any host system). RPM now adds the ability to automatically convert your print file to PDF and email it to one or many recipients.

RPM receives the file from the host system
RPM performs various transforms to the document per your needs and settings
RPM will send the print job to a printer, email address, print to file and more.
Transforms and Actions - RPM and your Print File
RPM receives the file then applies transforms, then action. Some of the transforms RPM gives you are
Output: Text markup to HTML, Text markup to PCL, Text markup to PDF
Translations:UTF-8, String translation, Unix to DOS
Insert/Append: Insert bytes, Insert file, Append bytes, Append file, Break lines, Text banner, PCL banner
Removal: Remove null characters, Remove PCL, Remove bytes, Remove text markup
Transform: ASA to text markup, SCS to text markup, Text markup, Apply COR to Text Markup
The Actions is the last item on RPM's list for your print file. An action tells RPM where you want the print file to end up. Some of the actions include:
Archive: Print all your print files to disk as an automatic print history
Email: Email the file to a recipient or multiple recipients
Raw Printer: Send a printer ready file (PCL or PDF) to a printer
Filter: Integrate print data with third-party software and custom processing
Text Printer: Send an RPM formatted file (text markup) to a printer
Text Printing is one of the features setting RPM apart from all other LPD products. RPM's ability to handle many text formats intelligently, while providing a simple interface, has been a key reason for administrators and other IT professionals to make the switch from their existing print server to RPM.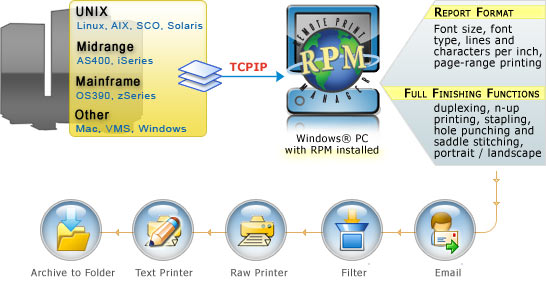 Printer - RPM lets you print to any Windows printer available to the PC; text printing goes one step farther by using the printer settings you select. For instance, open a queue and select the printer, orientation (Landscape vs. Portrait), and paper size (e.g. Letter vs. A4). Save these settings and RPM will use them whenever it prints to this queue.
Margins - RPM provides the tools to set page margins, using metric and US units, points and picas. RPM also retrieves the actual printer margins and adjusts as needed. For example, certain HP printers have a 0.667 inch margin. Given the default text margin of 0.5 inches, RPM automatically adjusts the printed margins, font scaling, line placement and wrapping as needed.
Fonts - RPM allows the user to select any font supported by the designated printer. However, if the user specifies a non-ASCII code page then RPM will limit the choice of fonts if that code page uses a special character set. RPM also gives you superior control over the font size. You can:

Select the font and size using the Windows font dialog
Specify the lines per inch or the lines per page (within the top and bottom margins)
Specify the characters per inch or line length (between the left and right margins)
This makes it very easy to print if you know the number of lines or columns. Just tell RPM how many lines and/or columns to use, and let it do the rest! For more information, please read the full description of RPM's print queues and the printer finishing functions available while using RPM to print to Windows.
Please feel free to download the fully functional Demo of RPM and see for yourself if RPM offers you a solution for your printing needs. You can test it out for yourself before you buy, without any question if it will work or not.