RPM is the "Flexible" Windows Print Server Solution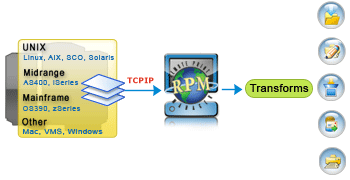 RPM Remote Print Manager® (RPM) Print Server can receive jobs from many types of host systems and print them to your existing Windows desktop and network printers. It doesn't matter where in Australia or the world these printers are located. As long as RPM can see them within it's print manager, RPM can print to them.
RPM offers many TCP/IP network and remote printing features not normally available with other print servers, hardware or software. With RPM, you can easily receive and customise print jobs from any AS/400, mainframe, UNIX, or Windows®-based system to ANY Windows printer, locally or remotely.
RPM provides many printing features, including the following:
Data conversions such as EBCDIC to ASCII and SCS to ASCII per supported languages.
The RPM filter type queue processing provides archiving and printing simultaneously, data conversion and data massaging, calling a software forms generator or other filter programs.
Insert and append functions and character translations.
RPM will suppress blank pages and wrapping lines of text.
PCL removal and translations.
RPM includes banner page removal or insertion.
Formatting of CPI, LPI, margins, page rotation, tray selection, and applying any driver-supported page finishing functions.
Control of deleting, holding, redirecting, and when to print.
RPM is a Software Print Server Solution
Hardware print servers can add extra cost and maintenance. RPM is software: there is no maintenance or a need to buy a refurbished server. RPM does everything a hardware print server can, and more, and comes at a price cheaper than most hardware print servers.
RPM can receive multiple jobs simultaneously, without losing jobs. Hardware print servers can receive and print only one job at a time.
Hardware print servers are limited in the kind of printer they can print to. For instance, if your hardware print server supports parallel printers, and you buy a new printer that supports only USB, you must buy a new (typically more expensive) print server that supports the new technology. To RPM, how the printer is attached is not important, only whether Windows can print to it.
You have to buy a new hardware print server for every printer you want connected to the network. RPM can print to the printers you have today, and new ones that you will buy in the future.
RPM can restrict access to users based on their hostname or IP address. Print servers cannot.
RPM can have multiple print queues, each going to a different printer or configured differently for the same printer. Hardware print servers have 1 queue and can only print to 1 printer (if a single port print server). Multiple port print servers can still only receive a single job at a time.
Hardware print servers are limited to pass-through only: no saving to disk and no reformatting the data for the printer.
When issues arise, most hardware print servers are not easily upgraded but software print servers can easily be upgraded to work in almost any situation.