Mainframe Spooling Software and Printer Connectivity
Using RPM Remote Print Manager® (RPM) and INTELLIscribe®, you can gain power and control that is normally lost with TCP/IP printing. Brooks' software solutions are low-cost, flexible Windows LPR LPD solutions and alternatives to purchasing and maintaining hardware solutions.
RPM and INTELLIscribe allow for easy iSeries spooling features and capabilities. In addition to providing powerful software, Brooks provides exceptional product support and continually improves its network printing software based on customer feedback and industry requirements. ExcelliPrint is mainframe IPDS file printing software available to try for free at no charge.
INTELLIscribe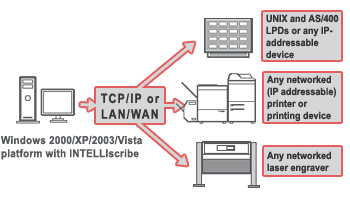 INTELLIscribe is a PC-based TCP/IP print client (LPR) for Windows platforms, enabling Windows users to efficiently send print jobs to network, mainframe, or host system printers ~ locally or remotely. INTELLIscribe's features expand your Windows printing capabilities in ways no other LPR can. And RPM allows you to learn about mainframe printing backed by excellent technical support!
INTELLIscribe's features include broadcast printing (printing to many IP addresses with one click of the mouse), fail-over printing (automatically rerouting print jobs to another destination if the first printer is busy or refuses to accept the job), easy reprint capabilities, and more. Visit INTELLIscribe's lpr technical features page to read more.
RPM Remote Print Manager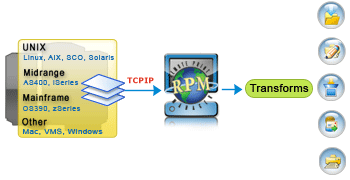 RPM is a PC-based LPD print server that allows mainframe files to be spooled easily to any Windows PC, via TCP/IP. Once a mainframe file is received by RPM, the file can be printed or can be written to disk (either on the local PC or on a network drive for easy file archiving). Once written to disk, the file can be opened by another application and modified to fit individual formatting or printing needs.
RPM can also easily format print jobs to fit onto any form, eliminating the need for preprinted forms. RPM performs various translations (as in EBCDIC to ASCII and SCS to ASCII), and much more. RPM also supports converting mainframe print control characters (ASA/Fortran, LF and PCL) to the appropriate PC printer controls. Please visit RPM's lpd technical features page to read more. RPM can print to PDF and email your host print files to one or multiple addresses.