Windows LPR Print Client for Remote IP Printing

INTELLIscribe is a TCP/IP Print Client supporting LPR/LPD protocol and HP JetDirect® printers. INTELLIscribe offers the ability to spool and print data to any networked printer, hardware print server, Windows® LPD, Unix LPD, AS/400 LPD, or mainframe LPD without a network server.
INTELLIscribe enhances your printing functions by offering features not found in other print clients or Windows printing options. INTELLIscribe proves to be a robust and useful tool for enabling and enhancing printing capabilities in environments where a domain server is used or where the server is not available.
How INTELLIscribe Works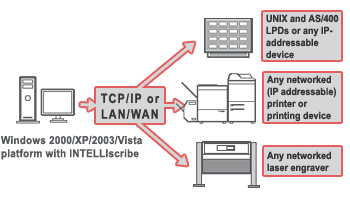 The user prints a file from any application to a Windows printer, which is configured to print through the "INTELLIscribe" printer port.
The application formats the data specifically for the printer using the print driver and sends it to INTELLIscribe. This way, INTELLIscribe spools to any printer model.
INTELLIscribe spools the print job to the destination configured in the "Virtual Printer Port". Any TCP/IP addressable printer or print server will work.
INTELLIscribe Enhances Your Windows Printing
INTELLIscribe is fully integrated with Windows printing, and configuration can be done through standard Windows printer setup. Windows users can print from Windows to anywhere because INTELLIscribe makes a TCP/IP printer look like a local printer. INTELLIscribe's user interface lets you know exactly what is going on with your current and past print jobs and INTELLIscribe reduces the cost and aggravation of lost print jobs.