Easy Telnet and JetDirect Printing with RPM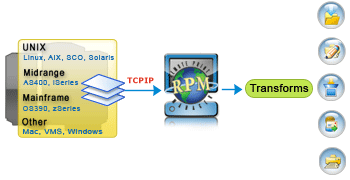 RPM Remote Print Manager® supports JetDirect and Telnet file transfer (or printing), receiving jobs via the Telnet printing protocol (also known as stream printing or reverse telnet. Most older or network operating systems do not support the LPR/LPD protocol for TCP/IP printing.
RPM removes PCL codes without the need of reconfiguring your application. RPM can format ANY text file and print to any Windows®-based printer regardless of tray selection, paper size, paper orientation, number of copies, or printer destination.
RPM and Telnet Protocol Working Together
There are many reasons for using RPM's Telnet printing, but the following two examples illustrate some common scenarios:
The JetDirect protocol is very similar to Telnet printing and RPM can be used to receive these print jobs and print them to any Windows-based printer. Hewlett Packard's HP3000 can be configured to print directly to HP network printers using the JetDirect protocol. Typically you would need a third party LPR client for the HP3000, which may be reasonably priced, but these applications could cause serious performance issues with this operating system.
In order to print from IBM's OS/390 mainframes (which do not support LPR/LPD printing natively), you must purchase expensive applications such as IP Printway from IBM. RPM could be very useful in eliminating the need for these expensive applications, as we have heard that the OS/390 does support Telnet printing.
RPM Enhances the Telnet Printing Experience
By configuring an unlimited number of Telnet ports to monitor print jobs, you can submit jobs to any RPM queue you want to use. Each RPM printer queue can be configured differently; for example, one queue can be configured for printing landscape jobs and another queue for printing portrait jobs. You can also configure the paper size, such as for printing checks and other forms. For example, in RPM you could define different queues to address the following settings:
Specifying the Job Name, User ID, and Title
Choosing to print even before the whole job has been received, or selecting how many pages to receive before printing starts
Specifying the number of copies to print for each job
Specifying columns-per-line if the data is text
Choosing whether or not to print a banner page