ExcelliPrint: Software IPDS Print Solution for Windows

ExcelliPrint® is a software solution for IPDS print environments that allows users to print mainframe IPDS jobs to Windows®-based printers. Printing to more common, non-IPDS printers can help lower your printing costs. In addition, ExcelliPrint supports AFP and IPDS to PDF and other formats. Save print jobs to file and easily distribute them through email or archive them for access later.
ExcelliPrint fully supports the IPDS protocol, accepting print requests from IBM iSeries™ and zSeries® computers over TCP/IP. ExcelliPrint is a drop-in replacement for any IPDS printer.
How ExcelliPrint Works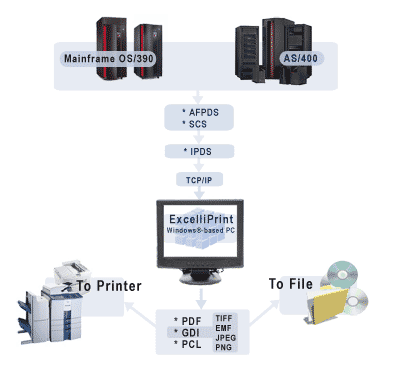 In order to redirect print jobs to other printers or to file, ExcelliPrint emulates a high-end IPDS printer. With ExcelliPrint, you have greater flexibility in selecting print destinations and output types.
With ExcelliPrint installed on a Windows-based PC, AFP/IPDS-based print jobs can be sent to Windows-based printers or saved to disk in a variety of formats.
Learn more about ExcelliPrint's IPDS printing features