HP3000 Remote Printing - MPE/iX TCP/IP Telnet Printing to HP and non-HP Printers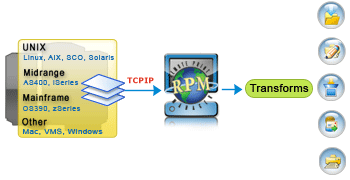 RPM is different from other print servers because of its ability to control and customise the processing of print jobs over a TCP/IP network. Normal hardware print servers that print from a mainframe to a PC do not offer the remote printing features that RPM does.
RPM eliminates the need to purchase third-party LPR/LPD print spoolers for HP3000. RPM can receive data directly from the HP3000 using the native TCP/IP printing supported by MPE/iX.
FAQs and instructions on setting up a remote printer on HP9000.
The Benefits of Using RPM with the HP3000 MPE/iX Operating System
RPM provides the HP3000 with the ability to understand more than just PJL and PCL printing languages. When using RPM, the HP3000 can print to any printer without the need to purchase HP-specific equipment.
RPM also eliminates the need for network printers by printing directly to any Windows networked printer, whether it is shared from another computer, locally connected to a PC, or connected directly to the network.
RPM Uses Printing Queues that are Incredibly Flexible
Raw Printing
Raw information is passed from the HP3000 through RPM to the PC's print queue. This bypasses the Windows print driver and allows RPM to process the print data without modification.
Text Printing
RPM controls the fonts by allowing page margins to be set and the text to be set with dynamic sizing using character-per-inch and lines-per-inch.
Filter Printing
Print jobs are captured and can be saved to a file or processed with an application such as a spreadsheet, word processor, or other programs.
---
Please feel free to download the fully functional demo of RPM and see for yourself if RPM offers a solution for your printing needs. You can test it out for yourself before you buy, without any question if it will work or not.