TCP/IP Network Printing Software for the AS/400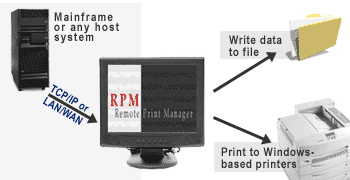 AS/400 desktop printing using RPM Remote Print Manager® provides unparalleled flexibility in network print management. RPM Remote Print Manager gives you the ability to make your AS/400 print jobs come out the way you want them to.
RPM enhances your AS/400 TCP/IP printing by giving you the ability to customise and control processing of print jobs received on your network or PC. Among RPM's many features you'll find duplexing, n-up, and tray selection when printing from your AS/400 to Windows using RPM. RPM will also give you the ability to easily do AS400 page range printing on Windows printers.
RPM provides text editing and formatting capabilities generally found only in publishing environments. It even allows you to hold print jobs, suspend queues, specify page ranges, and more.
Benefits of Using RPM for SCS Translation for AS/400 File Transfer
The primary benefit of moving SCS rendering off the host computer is reduced CPU time. Clients have reported print times reduced from minutes to seconds, though results will vary depending on the host utilization. The secondary benefits include the ability to capture to disk and support for country-specific extensions to EBCDIC.
AS/400 SCS to ASCII Conversion
Enhance printing time and reduce CPU usage on the AS/400 using RPM. RPM interprets SCS codes and translates them to ASCII.
For text output RPM preserves the SCS markup and reproduces attributes such as margins, font size, character position, and so on.
For non-text printing (pass-through and filter) RPM creates line-oriented output using carriage return for overstrikes as appropriate.
AS400 Check Printing and Postscript files can be received and printed on a Windows printer giving you more AS400 forms printing flexibility on your Windows network.
AS400 Print Queues Using RPM
AS400 printing queues withing RPM give you specialized and enhanced printing controls for AS400 spool files. No more printing on Greenbar paper, or ugly fonts and margins. RPM allows you to format the AS400 spool file to your desired needs, Character output reduction, page orientation, landscape and portrait, lines per inch and more. Please check out other AS400 printing enhancements RPM brings such as Unable to open RSS Feed http://www.as400tcpipprinting.com/feed/atom?format=xml with error HTTP ERROR: 404, exiting


---
Please feel free to download the fully functional Demo of RPM and see for yourself if RPM offers you a solution for your printing needs. You can test it out for yourself before you buy, without any question if it will work or not. Please check out our AS400 iSeries printing tips and solutions page with questions and answers to better your AS400 printing experience.